Cast & Cratives
Esther McAuley 
(a younger  Queen Elizabeth II)
Esther trained at Mountview where she was awarded the John Geilgud Bursary. Theatre credits include: The Mousetrap (Mousetrap Productions UK tour); I Promise you sex and violence (Northern Stage); Horizontal Collaboration (Traverse Theatre); Lady Macbeth in Macbeth (Warwick Arts Centre / China Plate); Thin Ice (Edinburgh Fringe); Thirteen, A Woman killed with kindness, Greenland and The Emperor Jones (National Theatre); The Lost Happy Endings (Red Earth); Matt Henson North Star (The Lyric Hammersmith); Whiter than snow (Graeae / Birmingham Rep); Arcadia, Habeas Corpus, Wild Honey and She stoops to Conquer (Pitlochry Festival Theatre); Sam Wanamaker Festival (Globe Theatre); Sticky (Improbable). Television: Smack the Pony and EastEnders.
Georgina Sutton 
(an older Queen Elizabeth II)
Georgina trained at Webber Douglas. Theatre credits include: Blood & Ice (Young Vic); Spike (Battersea Arts Centre); Arms and the Man (Greenwich Studio); White Rose (Latchmere); Broken Glass, Hayfever, Popcorn, Dancing at Lughnasa and Habeas Corpus (Civic Theatre Chelmsford); Closer and The Diary of Ann Frank (Palace Theatre Westcliff); Stepping Out (Devonshire Park Eastbourne); Macbeth (Mercury Theatre, Colchester). Tours include: Private Lives (Eastbourne Theatres); Dangerous Corner (Ian Dickens Prods) and Round & Round the Garden (Talking Scarlett Prods); Goodnight Mister Tom (Chichester Festival Theatre, Duke of Yorks & national tour). Films include: The Gallery (Channel 4) and Ego (Alfarthing) and corporate films.
Genevieve Swallow 
(a younger Margaret Thatcher)
Genevieve trained at GSA after reading Politics & Sociology at Durham University. She first played Margaret Thatcher in the satire show Newsrevue (Canal Café Theatre) and provided understudy cover for both Thatcher roles in the original West End production of Handbagged (Vaudeville Theatre.) She received a Best Actress nomination (The Stage Awards) & Best Actress award (Fringe Report) for the solo show Dulcas's Women (Pleasance Edinburgh). Other theatre includes: The Little Years (Orange Tree Theatre); I Am Star Trek (Greenwich Theatre, Hackney Empire Studio, Shaw Theatre); The Venetian Twins (Southwark Playhouse); Appalachia (BAC); Coffee (Theatre 503); The Depth (Miniaturists at Arcola Theatre); Marion Allen's Number One Hobby (Pleasance Edinburgh); Man & Superman, Candida (UK Tours); Private Lives (Shaw's Corner); A Woman of No Importance, Present Laughter, Blithe Spirit, Pride & Prejudice and Dracula (all Gawsworth Hall Open Air.) She was a Funny Women Finalist at The Comedy Store with sketch group Domestic Goddi (Leicester Square Theatre and Charing Cross Theatre); and has written and performed comedy on the London circuit and Edinburgh Festival. TV & Film: Red Dwarf (BBC); The Hutton Inquiry (Sky); Telling Lies (iDream Independent Pictures).
Claire Vousden 
(an older Margaret Thatcher)
Claire Vousden trained at Rose Bruford. Theatre credits include: Waste (National Theatre); The Widow, A Murder is Announced, Murder Weapon, Suddenly at Home, Deathtrap, tours with Talking Scarlet, The Conspirators, Orange Tree, Tales of The Country (Pentabus Theatre Company).  Don't Look Now (National tour); Blithe Spirit, Hancock's Half Hour, Black Comedy (Watermill Theatre); A Dulditch Angel (Colchester Mercury Theatre & Eastern Angles); Blue Remembered Hills and Abigail's Party (Dukes, Lancaster); David Copperfield (tour and Wolsey Theatre Ipswich & Eastern Angles); Hayfever (Oxford Stage Company); Abigail's Party (Northcott Exeter); The Cherry Orchard, Having a Ball (Harrogate); Midsummer Nights Dream, (Cheek by Jowl); Bedroom Farce and Adrian Mole (tours for Channel Theatre); Steaming (Worcester); Taking Steps (Hornchurch); Gut Girls (Albany Empire); Taboo and Cinderella (Young Vic); Stairway to Heaven (Kings Head); States of Shock (BAC); A Wing & A Prayer (New End); A Passionate Englishman (City of London Festival); Crazy Jason (Sherman – Cardiff); Swallows & Amazons (Theatr Clwyd); Worst Witch (Farnham and national tour); The Maids, Funny Thing Happened on Way to the Forum (Chichester); Wizard of Oz (Westcliff); Robin Hood & Babes in The Wood (Salisbury); Beauty & the Beast (Chipping Norton); Bats of Bleedham (Market); Lord Peter Wimsey (Eastern Angles).
TV credits: Endeavour, Miranda – Unwrapped, Casualty, Come Fly with Me, Phone Shop,Doctors, The Long Walk to Finchley, Eastenders, Love Soup, The Bunker, My Hero, Happiness, Little Britain, Politician's Wife, Devices and Desires, Sweet Hearts, Knockback, Great Expectations, Hi De Hi.  Film credits: To Father with Love, Ringtone, Inner Workings, Nativity 2 – Danger in the Manger, Warrior Sisters, Dogs Family, Sisterhood.
Phil Adele 
(A Palace Footman, Kenneth Kaunda, Nancy 
Reagan, Enoch Powell, Neil Kinnock, Michael Shea, Kenneth Clarke, A Protestor)
Phil is a half-Mauritian, Teesside-born Actor. Alongside passionately pursuing his career, he is also a skilled Musician as well as a Writer (ReverbRoom.com) and Podcaster (A Whole Lot Of Nothing). Since graduating from Italia Conti Academy of Theatre Arts in 2009, Phil has appeared in The History Boys (Keswick's Theatre By The Lake); Peppa Pig's Party in a full UK tour (culminating in a short run in the West End's Criterion Theatre), an outdoor production of Wind In The Willows and most recently he toured UK with Little Shop of Horrors in which he understudied and performed as Seymour. Phil has also been working hard in front of camera having filmed a short BBC Film, a number high-profile commercials as well as other exciting projects that are yet to be publicly announced.
Mark Huckett  
(Denis Thatcher, Peter Carrington, Gerry Adams, Ronald Reagan, Arthur Scargill, Geoffrey Howe, Rupert Murdoch, Prince Philip, Michael Heseltine)
Mark trained at Drama Studio London. Theatre credits include: Alan in Time and the Conways (Ticking Clock Productions); MacNamara in David Almond's Wild Girl, Wild Boy (Pop Up Theatre); Eastbourne Theatre's production of Ray Cooney's Funny Money, Mallarkey in Noah's Ark (Oxford Touring Theatre Company) and Jeremiah in Matches for Monkeys (Chelsea Theatre).  For TABS Productions, Mark has played Ross in Macbeth, Albert in Mort, Mustrum Ridcully in Lords and Ladies, Bruce in Blue/Orange and Himself (sort of…) in The Complete Works of William Shakespeare (Abridged).  He has also played the Father in Not Now Bernard and Other Monster Stories (New Perspectives), Cliff in Look Back in Anger (Vienna's English Theatre), Norman in Dinnerladies: Second Helpings (The Comedy Theatre Company) and Smee in Peter Pan (Theatre by the Lake, Keswick). In the West End Mark understudied and appeared as Man 1 and 2 in The 39 Steps at the Criterion Theatre, and understudied Steffan Rhodri on the production of The Mentalists at Wyndham's Theatre.On film, Mark played Dad in the short film My Dad & Spike (Dir. Murat Kebir) which won Best Foreign Drama Film at the International Family Film Festival 2011, and the title role in Gorka (Dir. Claudio Ravanelli.)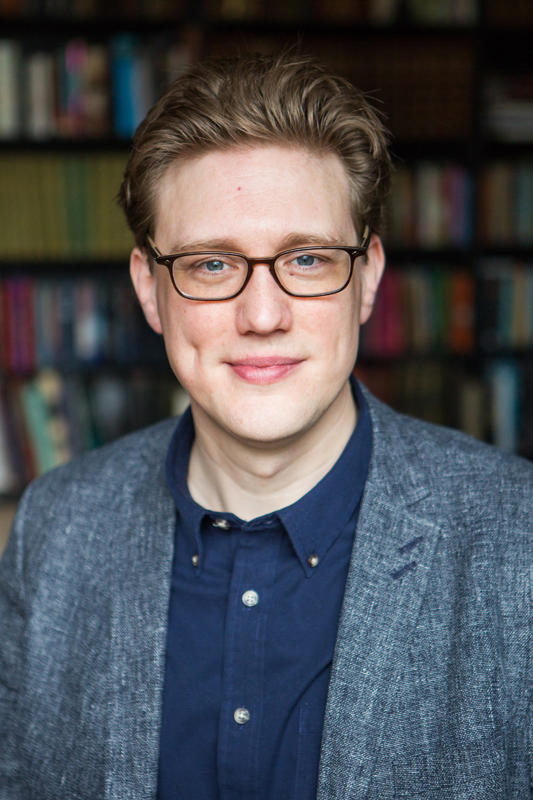 Tom Wright
(Director)
Tom studied drama at Bristol University and then worked as an assistant director at the Young Vic (on the Regional Theatre Young Director's Scheme), Bristol Old Vic, West Yorkshire Playhouse and the RSC. Directing includes: The Soul of Ch'ien-Nu Leaves Her Body (Young Vic); Tempest (Southwark Playhouse); The Water Engine (Theatre 503/Young Vic); Ay Carmela! (York Theatre Royal and international tour); The Good Person of Sichuan (The Drum, Birmingham); The Container (Edingburgh Fringe, winner Fringe First and Amnesty International Award, revived at the Young Vic); Home Sweet Home (Freedom Studios, Albany and Arc); Blake Remixed (West Yorkshire Playhouse/Little Mighty); Brief Encounters at Bradford Interchange (Freedom Studios); Horace and the Yeti (ARC/Barnsley Civic/Little Mighty); Nuketown (ARC/Derby Theatre/The Bike Shed) and two short operas in Selfridges' shoe section (The Opera Group). His drama school productions include work at Rose Brufford, Birmingham SA, Guildford SA, Manchester Met, Mountview and Guildhall. His work is dedicated to his mentor, Daisaku Ikeda.
Hannah Sibai 
(Set and Costume Designer)
Hannah trained at Wimbledon School of Art in London and is now based in Yorkshire. She works across the UK and Europe designing theatre, films, music videos and installations. Theatre design credits include: WANTED (Chris Goode and Company); Instant Light Circus Company (Slung Low); Under the Bed (154 Collective); Bassett (Sheffield Crucible); Phone Home (Upstart Theatre); Weekend Rockstars (Middle Child); Mr Tiger Goes Wild and Penguin Elephant (Goblin); Home Sweet Home (Freedom Studios); Shivoham and Rudra (Manasamitra), SET FIRE TO EVERYTHING!!! (RashDash); The Situation Room (Oscar Mike); Days of Light (Starving Artists) and Country Music (West Yorkshire Playhouse).
Film credits include: The Astro Science Challenge for Unlimited Theatre (short films); Good Girl by Aquilo (pop promo); Coming Home by Kaiser Chiefs (pop promo); Kami by Dreamtiger Films (short film) and See Right Through by Tensnake (pop promo). In April 2013 Hannah was appointed Designer in Residence at the West Yorkshire Playhouse over the period of the acclaimed Transform Festival, designing several in-house shows plus an ambitious new environment for the bar area.
Derek Anderson
(Lighting Designer)
Derek trainde at Mountview Academy of Theatre Arts (First Class Honours Degree in Production Arts). Theatre includes include: WhatsOnStage Awards 2014-2017 (Prince Of Wales); Promises Promises, Allegro, Grand Hotel, Uppercut, Followers (Southwark Playhouse); Spamalot (English Theatre Frankfurt); What I Go To School For (Theatre Royal Brighton); Hatched n' Dispatched (Park); Pure Imagination, Scenes From A Marriage, Andrew Lippa In Concert, Marry Me A Little (St James); Sunset Boulevard (Yvonne Arnaud); Rumpelstiltskin (MAC, Belfast and Theatre Royal, Bath); Ignition (Frantic Assembly); Henry V (Cambridge Arts); Wonderful Town (ArtsEd); The Wedding Singer, How To Succeed In Business Without Really Trying (Lowry, Salford); Our Friends, The Enemy (UK tour); If We Got Some More Cocaine, Portia Coughlan, The Verb To Love, The Fastest Clock In The Universe (Old Red Lion); The Grand Tour, The Hospital At The Time Of The Revolution (Finborough); Animal Farm, Hello Again (Mountview); Little Shop Of Horrors (Stowe Arts); The Backstage Tour (Hoxton Hotel); The Beautiful Game (Union).
As Associate/Assistant Lighting Designer: Charlie And The Chocolate Factory (Theatre Royal, Drury Lane); Shakespeare In Love, Henry V (Noël Coward); Skylight (Wyndham's); Fatal Attraction (Theatre Royal, Haymarket); Dragon (National Theatre of Scotland); Le Corsaire (English National Ballet); The Cone Gatherers, Cat On A Hot Tin Roof  (National Tour).
Tom Attwood
(Sound Designer )
Composition and Sound credits include: Murder for Two (Music Director & Co-Sound Designer, Watermill Theatre & The Other Palace Theatre); The Picture of Dorian Gray (The English Theatre Frankfurt); The Silence at the Song's End (Edinburgh Festival); Stig of the Dump (UK Tour); As You Like It (Creation Theatre Oxford); Larisa and The Merchants (Arcola Theatre); Beauty and The Beast (Creation Theatre, Oxford).
Music Director credits include: Murder for Two (Music Director & Co-Sound Designer, Watermill Theatre & The Other Palace Theatre); Peter And The Starcatcher  (Royal & Derngate Northampton); Monster Raving Loony  (Soho Theatre & Theatre Royal Plymouth); Hopelessly Devoted  (Birmingham Rep, Paines Plough, Tricycle & UK Tour); Ghost The Musical (English Theatre Frankfurt); The Sound of heavy Rain (Paines Plough, Roundabout Season); From up here (Perfect Pitch Musicals, South Hill Park Arts Centre); The Kissing Dance (Peter Huntley Productions & Chantelle Staynings, Jermyn Street Theatre); Anyone can Whistle (Primavera Productions, Jermyn Street Theatre); Saturday Night (Primavera Productions, Jermyn Street Theatre, Arts Theatre, Theatre Royal Windsor).
As Music Director and performer: A Christmas Carol, 101 Dalmatians, Pinocchio  (Castle Theatre, Wellingborough); Cole (Yvonne Arnaud Guildford); The Invisible Woman (Film, Headline Pictures); Wind In The Willows (West Yorkshire Playhouse); Sleeping Beauty (Birmingham Rep); Sweeney Todd  (Octagon Theatre Bolton);  Posh(Pianist for recording session, Royal Court Theatre); The Habit Of Art (National Theatre & UK Tour); The History Boys (National Theatre, West End, Broadway, UK & International Tour).