Cast – Huck Finn
James E. Bailey
– Jim, Musical Director
Professionally
Sara Bishop Jones
– Widow Douglas, Aunt Sally, Woman, Man 2, "The Duke"
Professionally trained, Sara has played roles from Shakespeare to Arthur Miller and Henrik Ibsen, working in theatres across the world from Flat Earth Theatre Boston to Shakespeare Frankfurt and The English Theatre in Frankfurt, Germany.  Recent roles include Desdemona in Othello, Witch in MacBeth, Mayor Stockman in AnEnemy of the Peopleand Olivia in Twelfth Night.  Sara's most notable performances were The Pilot in George Brandt's one woman Tour de Force, Grounded, Veronica in the Tony Award winning play God of Carnage, Ann Deever in All My Sonsand Mademoiselle de Tourvel in Les Liaisons Dangereuses.  Sara has a B.A. in Theatre from Denison University in Ohio, has trained with the Young Actors Workshop at the Muny Student Theater in St Louis, MO and Stage Combat with Mathias Kunzler in Frankfurt, Germany.  She looks forward to participating in the 2019 IUGTE Conference in Ragnitz, Austria where she will participate in a Physical Theatre Workshop with Sergei Ostrenko.  When Sara isn't on stage she's running, doing yoga, spending time with her German Shepherd, making her way through the New York Times Bestseller list, travelling and working on her German.  Sara looks forward to what the future brings and hoping at some point it includes playing her dream roles of Martha in Edward Albee's Who's Afraid of Virginia Woolfand Miss Julie in August Strindberg's Miss Julie.
Conor Doyle
– Tom Sawyer, Old Huck, Man 1, "The King"
Conor Doyle is an actor and comedian from Ireland. He received training in various forms of comedy performance in Toronto, Canada and training as an actor in Dublin, Ireland at the DIT Conservatory of Music and Drama. He currently works at the English Theatre Frankfurt as a theatre pedagogue and actor. Previous productions in Frankfurt include Cinderella, The Canterville Ghost and Twelfth Night. Conor can be seen performing stand up comedy regularly at The Frankfurt School of Comedy shows that take place in Alt-Sachsenhausen.
Leanne Maskin
– Huck Finn
Conor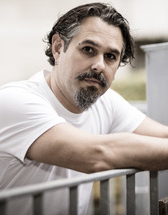 PJ Escobio
– Director
PJ is currently the Artistic Director of Shakespeare Frankfurt, for whom he has directed Shakespeare's Macbeth, Othello, A Midsummer Night's Dream ,Twelfth Nightand An Enemy of the People by Henrik Ibsen .  From 2015-18 he was the Director in Residence at The LOFT, where he directed Shakespeare in the Garden:Hortus Inclusus,  The Tempest, Groundedby George Brandt and was the co-creator of Where.  For 10 years he was the Artistic Director of Shakespeare Anyone? founded in New York City in 2005, where he directed, produced and/or performed roles from all but 5 of Shakespeare's plays.  He was the Associate Artistic Director of WordBRIDGE Playwright's Laboratory.  He also cast and directed BFA playwriting thesis projects for NYU's Tisch school of the arts.   He holds a Master of Fine Arts from the University of Missouri-KC.