Cast – The Life
Samson Ajewole
(Fleetwood)
Samson trained at the BRIT School and Bird College in London. He made his professional debut as Sohovik/Commissioner in Damn Yankees at The Landor Theatre. Samson is delighted to be performing at The English Theatre Frankfurt in The Life.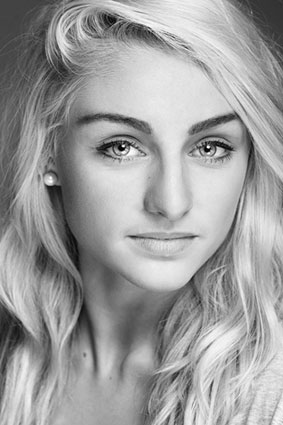 Victoria Anderson
(Gretchen)
Victoria started dancing, singing and acting from the age of four at The Betty Wivell Academy. At fourteen she attended The BRIT School gaining a BTEC in Musical Theatre. She went on to complete her training at Bird College, graduating with Distinction. Theatre credits include Ashley in Starlight Express (Bochum, Germany); Puss in Boots (Hackney Empire); Cabaret (Studio House Theatre, Sidcup); Golden Years of Variety (Hackney Empire); Macmillan Centenary Gala (London Palladium); Oklahoma (The Obie); Joie De Vivre, Hooray for Hollywood and Broadway Then and Now (Orchard Theatre, Dartford).
Siobhan Athwal
(Carmen)
Siobhan trained at The BRIT School and furthered her training at Arts Educational School in London, graduating with BA (HONS). Theatre credits include: Jihad in The Infidel (Theatre Royal Stratford East, David Baddiel & Kerry Michael); Luce in Viva Forever (Piccadilly Theatre Jennifer Saunders, Judy Craymer); Joanne in Rent (Dayle James Productions); Tiger Lilly in Peter Pan (UK Productions).
Television Credits: Freedom to Dance (B4U), Commercial (ITVBE), Chloe in Eastenders (BBC), Commercial for Pixie Lott and Colgate. Featured vocalist for Olivier Awards, music videos for Booty Luv, Jessie J and Jynx Effect. Film Credits: Ariya Siduh in Walking on Sunshine (Vertigo Films) and Priya Choprah in Sita oh Sita (Leopard Films). Radio credit: Finalist The Kiss Chosen One (KISS FM). Recording credits: Romana and Florence in Company Man and Aladdin (Cambridge Theatre Arts).
Hannah Cadec
(Mary)
Hanna trained at Millennium Performing Arts & Sylvia Young School. Theatre credits include: Columbia in Rocky Horror Show (European Tour); Original Ballet Girl return for Billy Elliot 10 Year Anniversary Performance (Victoria Palace); Ensemble in South Pacific (Kilworth House); Meg Giry in The Phantom of the Opera (25th Anniversary UK Tour); Ensemble in Aladdin (Milton Keynes Theatre); Ensemble in Wicked (Oberhausen, Germany); Featured in Slaughter for the The Place prize; Ensemble in Cinderella (Brighton Theatre Royal); Tina Harmer in Billy Elliot (Victoria Palace); Ensemble in Peter Pan (Sunderland Empire) and various pantomimes from 1997 through to 2003 at Princess Hall. Television credits include: Featured Couple in Channel 4s Random Act Project My Silent World, Featured Dancer in Tubby and Enid and Touch2Wild (MTV video).
Zeph Gould
(Axel / Lou)
Theatre credits include: Cat's Meat in Snow White and the Seven Dwarfs (Swansea Grand); Soloist, Welsh Musical Theatre Orchestra 2015 Tour; Collins in Rent (Bristol Fringe Theatre); Ensemble, Dance Captain Taboo (Brixton Club House); The Mayor in Andrew Lloyd Webber's Wizard of Oz (London Palladium); Adam Cooper and Lyndsey Posner's Carousel (Savoy); the TMA award winning production of Sweet Charity directed by Tim Sheader (Sheffield Crucible); Gordon in Rent (Prince of Wales London); Victorv and Rum Tum Tugger in Cats (New London); Phillip in original company of the 25th anniversary production of Jesus Christ Superstar directed by Gail Edwards (Lyceum); Judas in Jesus Christ Superstar (International Blues Festival, Hell, Norway); Tom Stoppard's Jumpers directed by Bill Alexander (Birmingham Rep); The Narrator in Aladdin (Midlands Arts Centre); several roles including The Red Caboose in Starlight Express (London and Bochum, Germany). Zeph has also toured the UK in the productions of Rent and Pirates of Penzance.
Television and film include: Doctor Who, Caerdydd, Pobl y Cwm, Shadow of the Valleys, 28 Weeks Later, Pride and Prejudice, Atlantis. Choreography: Closure (Video for the band the KUT, Criminal Records); Fashion Wales 2010 (Fashion Show); The Forgotten (Musical Welsh Arts Council).
Tom Andrew Hargreaves
(JoJo)
Tom graduated from the Italia Conti Academy of Theatre Arts. His theatre credits include:  Joey Primo and Stacee Jaxx in Rock of Ages (UK Tour); Prince Casper in Puss in Boots (Hackney Empire); Dwayne in 9 to 5 The Musical (UK Tour); The Wizard of Oz (London Palladium); We Will Rock You (Stuttgart, Germany); Caliban in The Tempest (Complete Works Theatre Company); Snow White and the Seven Dwarfs (Towngate Theatre); The Royal Masonic Variety Show (Prince Edward Theatre) and Women on the Verge of a Nervous Breakdown (Playhouse Theatre). TV credits include several episodes of Genie in the House (Nickelodeon) and Comedy Doubles (BBC3).
Rosalind James
(
Mercedes / Female swing
)
Rosalind trained at the Sylvia Young Theatre School, London. Her West End credits include: Rosa in Gone With the Wind (New London Theatre); Daddy Cool (Shaftesbury Theatre as well as Theatre Palast, Berlin); Elizabeth in Whistle Down the Wind (Aldwych) and Bet in Oliver! (London Palladium). Further credits include:The Lady in Blues in the Night (The Last Refuge) Diana Ross in Dancing in the Street (Uk Tour)  Dionne in Hair ( European tour); Alice in Dick Whittington and his Cat ( Lyric Hammersmith) ; Eponine in Les Miserables 25th anniversary (International & Barbican Tour)  Hair (English Theatre Frankfurt);
Florence in The Spotted Cow and the Piano Forte (Wilton's Music Hall); Simone in Release the Beat (Arcola); Soul Girl in Jesus Christ Superstar (UK tour) and Rent (Dublin Olympia). Her television credits include: Serena Richards in The Bill (Talkback Thames); Jonathan Creek (BBC); Disney Club (Buena Vista) and Children's Royal Variety Show (BBC/Dominion Theatre). For BBC Radio Rosalind has played Shereene in King Street Juniors and Rosalind in Listen and Write.
She was also lead backing vocalist for Just Jack on the albums The Outer Marker and Overtones, performing gigs throughout the UK and  America.
Cameron Johnson
(Memphis)
Cameron is originally from Toronto, Canada but has lived in the UK for most of his life. He trained at LAMDA. Theatre credits include Nugget in Equus (Talking Scarlet); Mrs. Rochester in The Brontës of Dunwich Heath (Eastern Angles); Jacob Marley in A Christmas Carol (BoxClever Theatre); and Guard in The Listener (short film for Good Shout Productions). He's also a self-taught singer/beatboxer and has spent much of 2015 honing his skills as a live vocal looping artist. This has already been useful professionally in BoxClever's production of Romeo and Juliet but it has mostly been for his own personal pleasure and development as a musician. Oh and, before you ask, he's 6'7" (201 cm).
Charlie Johnson
(Tracey)
Charlie trained at Arts Educational Schools London with a BA Honours in Musical Theatre. Theatre credits include: Alice/The Pearl Lady in Thoroughly Modern Millie (LandorTheatre) ; Dance Captain/Assistant Choreographer in Copacabana (UK Tour); Florrie in Spend, Spend, Spend (The Union Theatre) ; Mrs Squires in The Music Man (Arts Educational Schools); Ensemble in Soho Cinders (Arts Educational School) ; Dance Captain/Featured Soloist in Back to Before – highlighting the Music of Ahrens and Flaherty. Other credits include: Choir in Kerry Ellis Live in Concert  (London Palladium); Choir in Olivier Awards Ceremony 2013, 2014; Soloist in Smash Concert (the songs from the hit series); Backing vocalist in Kerry Ellis: Self Titled Album; Principal Ensemble in The Songs Of My Life: An Evening with Peter Polycarpou (The Garrick Theatre); Dancer in Olympia Horse Show.
Claudia Kariuki
(Sonja)
Claudia trained at Mountview Academy of Theatre Arts, making her professional theatre debut as Sarah in Ragtime (Regents Park Open Air Theatre). She has most recently featured in the Jason Robert Brown Concert (Royal Festival Hall) and performed with the cast of Porgy and Bess at The 2015 MasterCard Laurence Olivier Awards.
Previous credits include Featured Ensemble in Sweet Smell of Success (Arcola Theatre); Ensemble in Hairspray (No1 UK and Ireland Tour); Sister Chantelle in Bare the Rock Oper (Greenwich Theatre); Motormouth Maybelle Hairspray (Leicester Curve); Deloris Van Cartier Sister Act (National Opera House of Ireland); Ensemble in Gershwin's Porgy and Bess (Regent's Park Open Air Theatre); Oda Mae Brown in Ghost the Musical (The English Theatre Frankfurt); Matriarch/Fate 27 the Musical (Union Theatre) and Woman 2 Edges: A Song Cycle (London Theatre Workshop, Fulham/St. Paul's Actor's Church, Covent Garden).
Jordan Laviniere
(Dante / Dance captain)
Jordan Laviniere trained at Sylvia Young's Theatre School and Laine Theatre Arts. His theatre credits include: Thriller Live (UK and European tour); We Will Rock You (German, Swiss & Austrian Tour); Everybody's Talking About Jamie (Sheffield Crucible Workshop); Cinderella (Cambridge Arts Theatre); Movin' in Time, The Spirit of Life and Ahead of the Game (Epsom Playhouse); Winston in Whistle Down the Wind (Aldwych Theatre) and Young Simba in The Lion King (Lyceum Theatre).
His television & film experience includes: The Disney Kids Awards (Disney Channel); Little Miss Jocelyn (BBC); The Bill (ITV) and Harry Potter and the Half Blood Prince (Warner Bros. Pictures). Additional credits include: Dancer with One Direction (X Factor UK); Dancer with WWRY Wetten Dass (Germany); Dancer with Hard-Fi at the FA Cup Final 2012 (Wembley Stadium); music videos for Max Graham Owner of a Lonely Heart and X-Press 2 I Want You Back; Mazda Motor Show (Geneva) and Nespresso International Conference (Switzerland & Brussels).
Newtion Matthews
(Lacy)
Newtion grew up in a musical household and honed his craft as a vocalist in the church. Having diversified from this, he began his career as a dancer; but has always returned to his first love of musical theatre and singing. Having competed as a finalist on both The X factor UK as well as The Voice, Newtion was signed to Warner Music and toured throughout the UK and Europe. Theatre credits include: The Frontline (Shakespeares Globe); The Harder They Come (US Tour). Television credits include: Absolutely Fabulous, Dance for Comic Relief, The X Factor. Film credits include: Gulliver's travels.
Ngozi Ugoh
(Queen)
Ngozi trained at London School of Musical Theatre. Since graduating her credits include: Dynamite in Hairspray (St. James Cavalier, Valletta, Malta);  Poncia in Bernarda Alba (Bridewell Theatre); Princess Tiana in New Generation Festival and Parade dancer in Once Upon a Dream (both Disneyland Paris); Cheshire Cat and Dodo in Alice in Wonderland (Royal & Derngate Northampton); Diva in Peter Pan (Aylesbury Theatre); Gary Coleman  in Avenue Q (Brookside Theatre); Principal cast singer in Band on the Run/Showdown/Elements (Norwegian Cruise Line).