The Lion in Winter – Cast and Creatives
Tom Butcher
(Henry II, King of England )
Tom trained at the Manchester Polytechnic School of Theatre. Theatre credits include: A Murder is Announced, Murder With Love, The Ghost Train, Double Death (National Tours); Sex Cells (Riverside Studios); Doctor in the House (National Tour); Puncture Repair (Landor Theatre); Shylock Kolner in Arnold Wesker's The Merchant (The Edinburgh Festival); The Snowman (First stage adaptation at Leicester Haymarket); Jack Worthing in The Importance of being Earnest and David in The Holly and the Ivy (National tours); Born Yesterday (Manchester Royal Exchange); All My Sons and Macbeth (Contact Theatre Manchester) and as Cletis T Fullernow in James McClure's Lone Star (The King's Head Islington). This production subsequently toured Australia ending its run at the Sydney Opera House.
On Television Tom is best known for his roles as PC Steve Loxton in The Bill for seven years and Doctor Marc Eliot in the BBC's Doctors for three years. Other television includes: Emmerdale, Casualty, A Wing and A Prayer, The Bradley Mysteries, Peak Practice, Bugs, Band of Brothers, Holby City and many more. Film Credits include: Emulsion, Little Bird (Granada); Anxiously Engaged (Ford Films); And When Did You Last See Your Father? and the urban suspense/horror Cherry Tree Lane. 
Eva Solange Bortalis
(Alais Capet, Philip's half-sister)
Eva was born in Paris and moved to London to pursue full-time training. She started at Chiswick Theatre Arts and recently graduated from the MTA. Credits whilst training: Dance Captain for Dangerous Daughters, Gosling in Mother Goose, Ensemble/Understudy Wickersham in Seussical, Soloist in Something Old Something New. Other credits: Ensemble in Rent (Vivo D'Arte, Frogmore Papermill), Commercial for Sainsbury's (YouTube). Eva is thrilled to be a part of this production and would like to thank her family, friends and teachers for all their support. 
Stanton Wright
(John, the youngest son)
Stanton trained at Mountview Academy Of Theatre Arts. Theatre credits include: Ronnie Lane in All or Nothing (on tour/West End); Ralph in Lord of the Flies (Courtyard Theatre, Hereford); Troubadour in Take me here by the Dishwasher (Barbican, Ragnar Kjartansson); Actor/Puppeteer in This Moose belongs to me and Jackie the Baboon (Unicorn Theatre & Orange Tree Theatre/Brunskill & Grimes); Florence in Florence loves you (Theatre 503); Devil in The Glorious Damnation of Eddie Small (Union Theatre/Bedlam Theatre); Performer in Renaissance Body (RSC/British Museum). Film credits include: White Girl, Out Of The Box, Rum (All short).
Ludovic Hughes
(Geoffrey, the middle son)
Ludovic is a graduate of Drama Centre London. His theatre credits include: Permenance (Tarragon Theatre, Toronto); Wasted (The Albany); Gatsby (Leicester Square Theatre); Much Ado about Nothing (N16 in Bedford & The Bloomsbury Theatre); A Midsummer Night's Dream (Southwark Playhouse); King Lear (The Rose Playhouse); The Voice of the Turtle (Home House); Macbeth (Catford Broadway). His TV & Film credits include: The Ride (Lucky Red Films); Murder Maps (Series); Alegna (Short film); Licence to Cheat (TV Film); Double Trouble (Short film).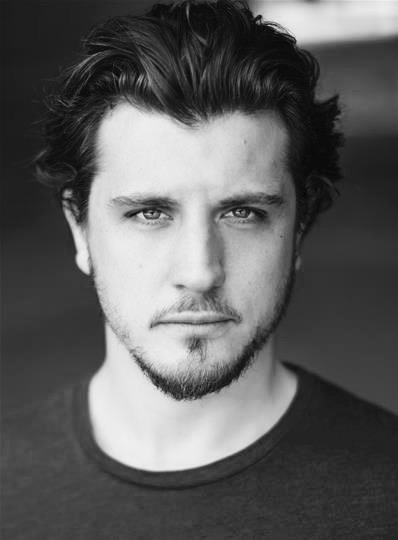 Oliver Towse
(Richard Lionhart, the eldest son)
Oliver Towse has appeared in many stage productions. He is best known for his role as Jay Gatsby in The Great Gatsby Immersive show (2018) and his work on The Tempest with the Royal Shakespeare Company (2017). Other shows include performing alongside the London Symphony Orchestra at The Barbican, at the Top of the 02 with Grassroots Shakespeare and along side Simon Russell Beale at the Guildhall.
Carmen Rodriguez
(Queen Eleanor of Aquitaine)
Having thoroughly enjoyed playing the divinely wise and witty Mrs Higgins in last year's production of Pygmalion, Carmen is delighted to be back in Frankfurt to play Eleanor of Aquitaine. 
Carmen has a solid track record of playing troublesome or damaged women, both in drama and comedy.  She played Irina Arkadina in The Seagull  at the famous Minack Theatre by the Sea in Cornwall, Miss Havisham in  Great Expectations  at the Attic Theatre, Lady Bracknell in The Importance of Being Earnest  for the London Classic Theatre international tour. Other favourite roles include Silda in Other Desert Cities and Julia in Lend Me A Tenor both for Vienna's English Theatre, as well as Mrs De Hooley in The Passing of the Third Floor Back, Mrs Cliveden-Banks in Outward Bound  and the Comtesse de la Briere in J B Priestley's What Every Woman Knows all for the award-winning Finborough Theatre in London. Carmen has worked in London's West End numerous times including in Oscar Wilde's An Ideal Husband  at the Vaudeville, Shaw's Mrs Warren's Profession at the Comedy Theatre, Edward Albee's Who's Afraid of Virginia Woolf? at the Apollo and Noel Coward's Easy Virtue  at the Garrick. Work outside London includes Arthur Miller's Death of a Salesman at the Manchester Royal Exchange, Shakespeare's King John at the Kingston Rose Theatre, Joe Orton's farce What the Butler Saw at the Bath Theatre Royal and The Elephant Man at the Churchill Theatre, Bromley. 
Daniel Abbott
Philip II, King of France)
Daniel trained at  LAMDA. Theatre includes include: Wasted (Orange Tree Theatre); Richard II, Henry IV parts 1&2, Henry V (Royal Shakespeare Company/Brooklyn Academy of Music); Famous Victories (Royal Shakespeare Company); Pride and Prejudice (Regents Park Open Air Theatre tour); Different Buttons, Progress (The Avenue); The Grouch (Mumford Theatre); The Comedy of Errors, Wuthering Heights (Red Rose Chain). Television credit: Holby City. Film credit: Getting Closer (short).
Derek Anderson
(Director)
Derek studied Film and Television Production at the North East College of Scotland followed by Theatre Production from Mountview Academy of Theatre Arts.
On his directing debut, Derek won the 2015 Whatsonstage Award for Best Off-West End Production for Stephen Sondheim's Sweeney Todd: The Demon Barber of Fleet Street at the Twickenham Theatre. The critically acclaimed production, starring Olivier Award-winner David Bedella in the title role, was also nominated for Best Musical Revival. Last year Derek directed the Kander and Ebb's Cabaret and The Pillowman by Martin McDonagh, both for ACT Aberdeen. He followed these productions with Stephen Sondheim's Company in January this year. Other work includes Into The Woods by Stephen Sondheim for Stowe Arts and the world premier of Eyes Closed, Ears Covered by Alex Gwyther at the Bunker Theatre, nominated for three Off-West End Awards. Derek also works as a lighting designer and has previously been at the English Theatre Frankfurt to design the lighting for Spamalot, Handbagged and The Hound of the Baskervilles. Derek is excited to be returning to the ETF after directing Hand To God earlier this year.
Alyson Cummins
(Set and Costume Designer)
Alyson studied Architecture at University College of Dublin and trained at Motley. She was a finalist in the Linbury biennial prize for stage design in 2007. Designs include: Così Fan Tutte (Opera Holland Park); Tosca (Icelandic Opera); Eyes Closed Ears Covered (Bunker); Zazà (Opera Holland Park); Sinners (Lyric Belfast); Jacques Brel Is Alive and Well and Living In Paris (Gate Theatre, Dublin); The Nativity and The Gingerbread Mix-Up (Lyric Belfast); The Nest (Lyric Belfast/Young Vic); Quietly (Abbey Theatre/Irish Rep /Public Theater); Fabric – Edinburgh Fringe First Award (Marlowe Theatre); Macbeth (Iford Arts); This Limetree Bower (Project Arts Centre); The Lighthouse (Linbury Studio); The Night Alive (DTF/Lyric Belfast); At The Ford (Rise); I Know All The Secrets In My World (Tiata Fahodzi), Pentecost – Best Set Design, Irish Times Theatre Award 2015, Mixed Marriage (Lyric Belfast); Heartbreak House, The Risen People, Quietly, Perve and No Escape (Abbey Theatre); Be Infants in Evil (Druid); Summertime 
(Tinderbox); It's A Family Affair (Sherman Cymru); Before It Rains (Bristol Old Vic and Sherman Cymru); Pornography (Waking Exploits); Pigeon (Carpet Theatre); Ruben Guthrie (Iron Bark); How The World Began (Arcola Theatre/Tom Atkins); Hamlet (Second Age); Colleen Bawn (Project/Civic/Bedrock); Off Plan (Project/Raw); Serious Money and Dying City (Rough Magic Seeds); The Trials of Brother Jero, Through a Film Darkly (Arambe).
Zia Bergin-Holly
(Lighting Designer)
Zia designs lighting and sets for theatre, dance, opera and live music
events. She works internationally and has a base in both the UK and Ireland. In 2017 she won the Irish Times Theatre Award for Best Lighting Design for her design of Pan Pan Theatre Company's 2016 production of The Importance of Nothing, which was revived for a tour in 2018.
Recent lighting designs include Frankie and Johnny in the Clair de Lune (Northern Stage); Romeo and Juliet (Ballet Ireland); Melt(for Rough Magic, Smock Alley Theatre, Dublin); ANNIE (Cork Opera House); The Ladykillers (The Lyric Theatre, Belfast) ; The Nest  (Lyric Theatre Belfast and Young Vic Theatre London), and FABRIC (Winner of a Scotsman Fringe First Award), as well as The English Theatre Frankfurt's own production of Hand to God earlier this year.
Her set and lighting designs for stage include They Called Her Vivaldi (Theatre Lovett
at The Abbey Theatre, Dublin and Irish National Tour); The Shitstorm (The Abbey
Theatre and Dublin Fringe Festival); Before Monsters Were Made (15th Oak and Irish
National Tour). Zia was also the production designer for the Olympia Theatre Dublin Grace Jones concert performances, recorded for Grace Jones: Bloodlight and Bami produced by Musical of My Life Films. Her work has been seen at the Dublin and Belfast Theatre Festivals, The Dublin Fringe, Edinburgh Fringe, IPAY, On The Edge, Kilkenny Arts, Baboró and 10 Days In Dublin festivals, as well as assistant design credits for performances on the West End. Current and Upcoming work includes designing lighting and set for Dante or Die's User Not Found (Edinburgh Fringe Festival) and The Corn Exchange's The Misfits  (Dublin Theatre Festival 2018).
Hendrik Dingler
(Sound Designer)
Hendrik Dingler is a Frankfurt am Main based Composer, Sound Designer, Live Performer and Audio Engineer. Since 2015, Hendrik works full-time at the English Theatre Frankfurt (ETF). Pieces of him were played at the Lange Nacht der Musen (Darmstadt, Germany), the Galerie Lausberg (Toronto, Kanada) and at the Music Festivals Limburg on/off, Next Generation (ZKM, Karlsruhe), Linux Audio Conference (Maynooth, Ireland) and the Musicacoustica-Bejing (China).
Compositions and Sound Designs: Quadrangle AV (cultural capital 2010, Zeche Zollverein Essen, Germany); Ruhrlautsonate (Pina Bausch theatre, Folkwang UdK); Stadt Land Ruhr (Pina Bausch theatre, Folkwang UdK); Cats lost in Space (short film by Eva Münnich); Regenbogenmaschine (short movie by Samuel Maasho and Riccardo Jurkovic); Hand to God, Disgraced, Witches, Living with Lady Macbeth (all ETF); TAMAH (short film by Erhan Yürük, participation at the 6th International Film Music Competition, original music by Jeremy Dirat); Cut'n go ahead v.0.1.5 (performance at the Institut für Neue Medien Frankfurt). www.hendrikdingler.de
Melanie Schöberl
(Assistant Costume Design)
Melanie`s first experience as a costume designer was for the Chaincourt Theatre Company at the Johann Wolfgang Goethe-Universität in Frankfurt am Main. In 2006 she worked as a costume assistant for the choreographer/director Wanda Golonka on Crave by Sarah Kane. During the same year she was part of the creative team of the Sebastian Hartmann production Being Lawinky. She did costume design for The Threepenny Opera, The Crucible and Master Class. Her work as assistant costume designer includes The Who`s Tommy, Rain Man, Breaking the Code, Sweet Charity, Good People, The Ruling Class, Saturday Night Fever, Venus in Fur, The Collector, Other Desert Cities, Death and the Maiden, The Glass Meangerie, The Life, Disgraced, The Picture of Dorian Gray, Spamalot, Handbagged, The Hound of the Baskervilles, Pygmalion, Jekyll & Hyde and Hand to God all for The English Theatre Frankfurt.